Dan Maack


Professional Experience
Salt Lake Locations Real Estate
Salt Lake City, UT (2003 - Present)
Owner / Principle Broker
· Successfully manage daily operations for an independent real estate brokerage company.
· Manage and maintain brokerage and client escrow and business accounts.
· Provide professional business services for client in all aspects of home buying and purchasing.
· Developing and maintaining professional relationships involving title companies, appraisers and contractors aiding in the successful real estate transaction.
· Developing strong personal relationships with Clients, Real estate agents, and trade professionals.
· Successfully negotiated contractual agreements while protecting client interests.
· Ability to work successful with team of people within the cooperation.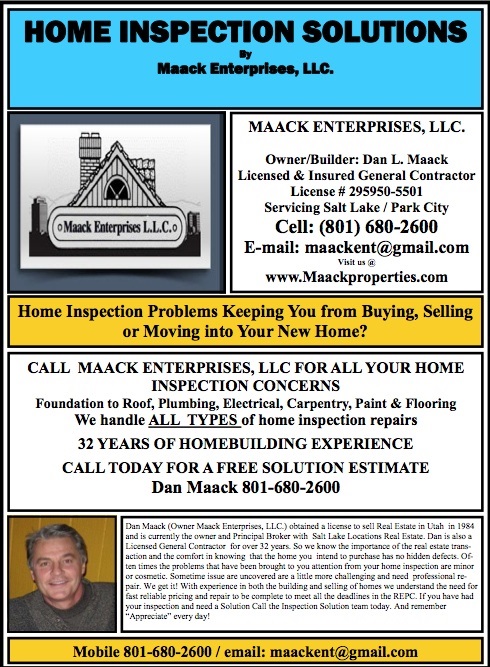 Maack Enterprises L.L.C.
Salt Lake City, UT (1987 – Present)
Owner
· Successfully managing the various stages of Real Estate development.
· Managing employees and the daily operations of a successful small business.
· Managing company monies and investments to ensure a healthy fiscal return.
· Developing and maintaining a healthy professional relationship with various vendors utilizing strong interpersonal skills.
· Developing strong client relationships through consistent outreach and professional marketing.
Professional Achievements

- Successfully marketed, negotiated and sold numerous infill subdivisions in Salt Lake.
Utilizing strong marketing tactics I was able to generate significant interest in my client's subdivision. Consequentially I was able to sell all of the homes in a relatively short timeframe.
- Succeeded in developing, managing and maintaining several successful and profitable businesses.
Utilizing Understanding the business process and the intricacies of one's development I have owned and operated several (3) successful small businesses. Currently, I am operating a small Real Estate brokerage.
- Developed a business model for the purchase, acquisition and development of infill subdivisions in the Salt Lake area.
Real Estate development has been my forte and has allowed me to oversee all aspects of in fill project development.
- Worked with County and City Government involving Planning Commission, Zoning, and City Councils creating small Planned Unit Developments (PUD'S) in Salt Lake County.
Utilizing strong interpersonal skills, I developed many lasting professional relationships with different government officials to successfully run my businesses.